Join us for our 15th Annual DCU Event!
Monday, January 20, 2020
2:00 - 3:30 p.m. | Evanston Township High School Auditorium
1600 Dodge Avenue, Evanston, IL 60201
Diverse Communities United (DCU) is Y.O.U.'s annual celebration of peace, diversity, unity, leadership, and service help in honor of Dr. Martin Luther King Jr. Day. This year's theme is "I Am My Ancestors' Wildest Dreams."
The youth-led event will feature performances and artwork by youth from 11 schools across Evanston and Skokie who seek to realize Dr. King's vision today.
The event is FREE, family-friendly, and open to all ages. A community reception will be held in the lobby outside of the auditorium immediately following the program.
You can visit our Facebook event to learn more, and get updates about how our youth are preparing for the big day!
We look forward to seeing you there!
Event Program
Diverse Communities United is a youth-led community event celebrating Dr. Martin Luther King Jr.'s legacy and vision for a peaceful, just and equitable world.
Welcome from our Youth-Led DCU Committee:
Over the past few months, we worked together to develop several parts of today's celebration. We brainstormed a theme for this year, and we worked with staff to vote on a theme that strongly connected with us.
This year's theme that we decided on is "I am my ancestors' wildest dreams." This phrase is one of the countless statements that has inspired connectedness and responsibility to those who have fought, resisted, and persisted before us.
We chose this theme because we are working to be everything our ancestors would look up to and be proud of. We are on our way to achieve what our ancestors dreamed about, and we are here to show how we can change the world. Through this theme, we honor our ancestors and the people who came before us. We uplift the work that they have done to advance our journey towards freedom, and we continue on the path that they have laid foundations for.
All of the performers, artists, and stage assistants are involved in programs at Youth & Opportunity United. DCU is a unique opportunity for all of us to live out our values and show our friends and family the results of our hard work. Thank you again for celebrating with us today.
In peace and justice,
Autumn, Soleil, King, Jasmine, Michelle, Mia, Nia, Emma, Damien
Order of Events
Lift Every Voice and Sing | Led by DCU Emcees & ETHS Students
Introduction and Welcome | DCU Emcees
A Manifestation of Our Ancestors' Dreams | Dawes Elementary School, Walker Elementary School & Washington Elementary School
Dancing into Tomorrow | Oakton Elementary School
School Dayz | Lincoln Junior High School
Edison Poets | Edison Elementary School
The Definition | Nichols Middle School
Presentation of the DCU 2020 Legacy Award | King Fanfan & DCU Emcees
Live • Dance • Love | Old Orchard Junior High School in collaboration with Chute Middle School
Susie Recognition | DCU Emcees
We Are Our Ancestors' Wildest Dreams | King Arts School
This is Me! | Chute Middle School
I Know Where I've Been | Evanston Township High School
Finale | DCU Emcees + All Programs
Thank You To Our Partners & Friends
An event of this size takes a village and we are fortunate to have an extraordinary group of volunteers helping to make DCU a success!
An extra special thanks goes to Susie McMonagle for her creative direction of the show. This is Susie's 8th DCU and we are so thankful to have her working with us. Susie is a Broadway star who lives in Evanston and has given her time, talent, and kindness generously to ensure all our young performers reach their full potential. Her Broadway credits include Fantine in Les Misérables and she has toured nationally as Donna Sheridan in Mamma Mia!. We are truly fortunate to call her our coach here in Evanston.
Thanks to our elected officials, principals, teachers, and other community leaders.
Y.O.U.'s partners help bring the event to life.
We are grateful to Dance Is My Everything (DIME) and SOUL Creations for working with our youth on their DCU performances.
We thank Dance Is My Everything (D.I.M.E.) for its partnership to provide dance programming to youth across our sites. Youth at our Oakton Elementary and Old Orchard Junior High sites worked with D.I.M.E. to create an original dance piece for DCU which connects us to our elders and the future.
We also thank SOUL Creations for its partnership and support of Walker, Dawes, and Washington Elementary sites. SOUL Creations collaborated with our youth to create an African Drum and Circle ensemble together to recognize our ancestors' wildest dreams.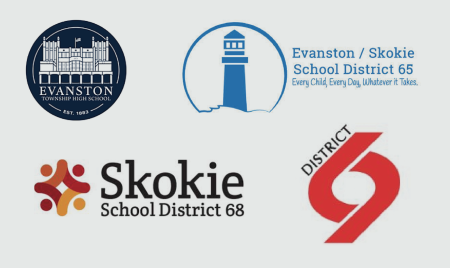 We would also like to recognize Evanston Township High School for their generosity and use of their auditorium and staff to host the event itself. We also deeply appreciate School Districts 65, 68, 69, and 202 for their programmatic partnership and use of space for youth to practice for the event.
After the Show...
We will also be showcasing a pop-up art gallery featuring pieces by our youth across several sites.
These artworks embody this year's theme, "I Am My Ancestors' Wildest Dreams." We are so proud of the artistic expression from the many artists in Y.O.U. programs, so we hope you can spend a few minutes in the lobby and hallway taking it all in before exiting.
Behind the t-shirt
This t-shirt design was created by the youth of our King Arts cartooning group, led by George Folz, a professional cartoonist and former Y.O.U. staff member.
George Folz is an Evanston native who worked for YOU from 2014-2017. Starting as a summer fellow at ETHS, he went on to serve two years as an AmeriCorps, and one year as a Youth Development Specialist at King Arts. Since leaving the organization, he has continued to be involved with his former students as a volunteer, and outside provider, facilitating various enrichment groups for both elementary and middle schoolers. Contracting for clients both locally and nationally as a cartoonist, illustrator, and graphic designer, George also draws commissions as a portrait artist, specializing in dogs and pets. He can be reached through email at georgefolz87@gmail.com.
We leave you with this poem by Jason L. Moore, I'm My Ancestor's Wildest Dreams
I'm my ancestors' wildest dreams
Slaves survived by any means
Necessary - is a sweet blessing
Angels cheering for me down from heaven
We can't imagine living each other's life
I can't fathom their daily pain and strife
So every Class, Test, Event, and Game
I work hard and smart so I can claim
Success for them, me and my family
Their survival and sacrifice is what made me free
So I make a daily vow to make them proud
Me a rookie on my family's team
I'm my forefathers' wildest dream!
I'm my ancestors' wildest dream!
Middle class but my great grands think I'm Queen!
Slaves made this country great beyond every measure.
Died broke but gave us invaluable treasure
I share their Blood, Genes, and Dreams
What didn't kill them made them sing
Spirituals of sweet low chariots
They slept on floors so we can stay at the Marriott's
I thank them daily for their sacrifice
They all paid the ultimate price
I time traveled back into the distant past
150+ years ago if you do the math
To see my great grandfather who was born a slave
An asset, his second Master's $1,500 mortgage paid
Died free so they put a different name on his grave
Than the one that his captors gave
Branded - bought and sold with a mortgage
Then discarded like lost goods for years left in storage
AMERICA! - "land of the free" was a Ponzi scheme
BUT IT'S OKAY, and WHY I SAY
THAT I'M MY ANCESTORS' WILDEST DREAM!!!
A big THANK YOU to all of our youth who worked so hard on their performances, artwork, and behind-the-scenes support!
Chute Middle School
Aliya Gillon, Izaya Carr, Cross Mitchell, Datavious-Caleb Harden
Dawes Elementary Schools
Alexis Ivory, Cece Nichols, Jardon Pringle, Kaitlyn Hutcherson, Khyla Rain Villaruel, Kyla Reid, Taylor Jones
Edison Elementary School
Dara Oretuyi, Allison Moncrieffe, Nia Cole, Heaven Lee, Sandriana Price
Evanston Township High School
Mia Williams, Nia Williams, Soleil Anderson, Autumn Anderson, Jasmine Mahler, Damien Dennison, Michelle Powyer-Hutcherson, Emma Mosco-Flint, King Fanfan
King Arts Literary & Fine Arts School
Dasha Thousaint, Arvin Powyer-Hutcherson, Joe Williams-Salgado, Sincere Robinson, Caitlyn Flowers
Lincoln Junior High School
Anyla Wells, Izzy Crawford, Kimberly Stewart, Brianna Ross
Nichols Middle School
Kenneth Darby, Brandon Rosemond, Amina Tolbert, Aaliyah Knox, Milan Fultz
Oakton Elementary School
Ka'Liyah Copeland, Kenadee Stallings, Logan Stallings, Andrea Patino, Daisy Rojas, Valentina Rojas, May Rodriguez, Aviyanna Stewart, Liyana Rogers, Lyric Rogers, My'Riana Pinzon
Old Orchard Junior High School
Anushka Kapoor, Zayjona Pelt, Averianna Butler, Aidsa Camrago, Adrianna Johnson, Ashlee Foreman, Annaya Delos Santos, Dominic Barrett, Djoude Morgan
Walker Elementary School
Rod Nivose, Randi Green, Camille Calixte, Laila Ransom, Alyssa Henley, Alyssa Scott, KyNia Hunt, Darianna Lee Morales, Darius Lee Morales, Latif Morales, India Hubbard, Isiah Cunningham, Vacou Early, Bemnet Fisseha
Washington Elementary School
Indiya Posey, Jana Ogu, Alexis Rosemound, Zariah Price, Sara Fihakhir, Kenza Fihakhir, Pearl Ijiwola, Ximena Serrano, Mia Morris, Marat Morris, Isle Moreno