Prompted by the current political atmosphere, this year's Diverse Communities United 2018 performance focused on amplifying the voices of black women and black members of the LGBTQ community.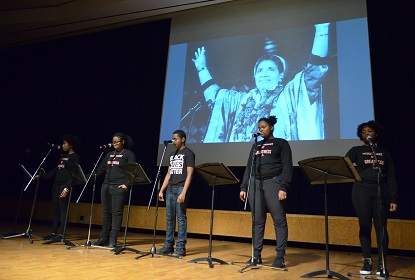 Students from Evanston elementary, middle and high schools created original performances at the event to honor Martin Luther King, Jr., and the work of Audre Lorde, an influential black and lesbian writer who was largely politically active in the 1960s and 70s. About 900 people attended the 12th annual show at Evanston Township High School Saturday.
This year's event focused around the theme "I am deliberate and afraid of nothing" — a line from one of Lorde's poems.
The show — organized by members of Youth and Opportunity United, a youth development agency that works with children from Evanston and Skokie — featured step dances, live poetry and original song. The event also included an art show displaying original works by the students.
Devea Williams, an ETHS junior and member of Y.O.U.'s high school committee, said she was happy the theme focused on Audre Lorde.
"A lot of people, when they think of the Black Lives Matter Movement, they think of men," Williams told the Daily. "Black women or anyone in the LGBTQ community is forgotten."
Students from Dr. Martin Luther King Jr. Literary and Fine Arts School showed a short film about a girl who wanted to try out for the football team. Despite her peers doubting the ability of a girl to play a "boys sport," she attended tryouts.
The main organizers of this year's show were six ETHS juniors, four of whom performed a poem that criticized society for only valuing black women for their "big thighs" and "high cheekbones."
Students from Y.O.U.'s 11 sites have prepared for the performances and art show for several months, Janelle Norman — the organization's manager of post-secondary success — said. She added it was important to amplify students' voices in the show.
"Students were instrumental and inspiring throughout this entire process," Norman told The Daily. "They really led the effort."
Norman said the show empowered many of the students because though they were initially nervous about performing in front of a large crowd, they eventually felt more confident.
Madison Corins, an ETHS junior and member of Y.O.U.'s high school committee, said she was glad she could be a role model to the younger performers. "A lot of people know the names of black men's lives who have been lost, but we don't know the names of black women whose lives have been lost," Corins said. "Today's society doesn't look up to (black women) as we should."