On Jan. 16, students from Youth & Opportunity United (Y.O.U.) joined to celebrate Martin Luther King, Jr. Day through a program of poetry, song, and dance. A diverse crowd of more than 1,000 community members attended the event at Evanston Township High School.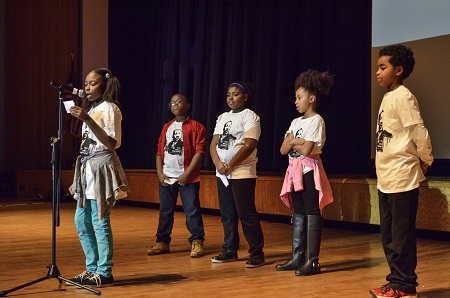 Elementary school students performed "Puppets with Purpose and Promise," highlighting people whose acts of defiance brought about social change. Images of Red Fawn, Payton Head, Iqbal Masih, Aung San Suu Kyi and Zulaikha Patel were enlarged on a screen one at a time while students described their courageous actions. The moral of the story, the students said, is "Don't be afraid to go against the crowd."
Popular music, bright lights and a smoke machine punctuated the messages sent through each performance. Students wore T-shirts with such slo-gans as "Future Legend," "No More Silence," and "Black Lives Matter," further highlighting the theme of the day.
Clifton Williams, Y.O.U. Chief Program Officer, complimented the "wise words" of the participants. He spoke of how young people marched with Dr. King in Alabama in 1963 and how the birth of hip-hop was a youth movement that "built bridges" between those who may not have otherwise come together. He said when he almost dropped out of high school, Y.O.U. gave him "a safe place to go" and his English teacher gave him needed attention and "kept him engaged." He encouraged the crowd to "redefine the word success," saying that it is one's character, not material things, that lasts.
Restaurateur Hecky Powell, in a taped message, told the students, "You guys owe us to do good. We sacrificed a lot for you."
Fernanda Perez, a parent leader from District 69 in Skokie, aimed her message at other parents. "Parents need to come together for those who need help and have no voice," she said. "No matter your background, coming together makes us all stronger."
In a video message, Reverend Dr. Michael Nabors of Second Baptist Church spoke of how everyone is "interwoven," saying, "I cannot be what I am without you being what you can be." He told students to "get back to community engagement so you can go into a world with hope."
During the event, the Diverse Communities United Award was presented to the leadership of Evanston Township High School for their work on racial equity. Y.O.U. Executive Director Seth Green told attendees, "The school's commitment to racial equity has become a role model for institutions across our country and is a powerful example of purposive leadership on behalf of equity. Today, we honor ETHS for its courageous commitment to raising the achievement of all students while eliminating the racial predictability of achievement."
"I can't imagine anything more important than being honored for our equity work," said Superintendent Eric Witherspoon who accepted the award along with members of the District 202 School Board. He added, "We stand with Congressman John Lewis" who said 'If you see something not right, you have a moral obligation to do something about it.'"
The event concluded with a powerful call-and-response with the students and audience chanting, "Let my people go, set my people free, I'm letting my people know, I love you like you are me."