The "Maker Movement" is taking hold in Evanston, with a collaboration of schools, community centers, the library and Northwestern University working to create makerspaces for school age kids throughout our city.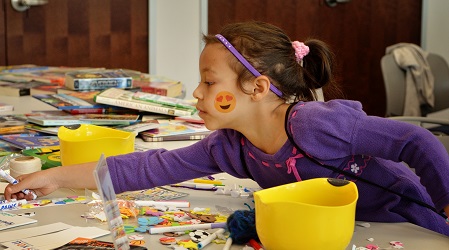 Students can tinker with and make things in makerspaces using traditional arts and crafts, electronics, computers, and digital fabrication tools such as 3D printers and laser cutters. Maker activities might incorporate elements of STEM education – science, technology, engineering, and math (also called STEAM with an "a" for arts) – but STEM is not the main focus of the Maker Movement.
"Makerspaces are the modern version of the industrial arts shop we had in middle and high school back in the day, combined with your grandfather's workshop out back in his garage," explains Kirby Callam, Project Director for EvanSTEM and coordinator of the "Maker Circle" collaboration.
Tech tools are expensive and it can take time to become proficient with them, Mr. Callam says; a network of Evanston makerspaces can provide the space, training, and tools so kids can tinker away. The spaces will notably benefit girls and students who identify as African American and Latino – populations that are typically underrepresented in STEM/STEAM environments.
The Maker Circle includes Chute, King Arts, and Nichols Middle Schools, Youth and Opportunity United (Y.O.U.), the McGaw Y's MetaMedia drop-in center, Northwestern, the Evanston Public Library, Family Focus, Fleetwood Jourdain Center, and the Robert Crown Community Center. Most spaces are still in the planning stages, with a few already well-equipped and up and running.
All Hands-On Learning
"I think the idea behind the Maker Movement is to give kids hands-on experiences, where they can try different things, be open and take risks, and not feel like it's a fixed project where the teacher decides on everything," explains Sherri Kushner, a Chute Media Arts teacher.
Students in Ms. Kushner's classroom-makerspace have silkscreened T-shirts, made 3D printed keychains and fidget spinners, and designed video game characters. Kids take on open-ended challenges, Ms. Kushner says, creating projects for which there is no correct answer or outcome, and students guide most of the process.
Makerspaces commonly feature digital technology such as 3D printers – tabletop manufacturing machines that convert computer-generated designs into 3-dimensional objects from heated plastic. But they also incorporate robotics, electronics, arts and crafts, jewelry making, woodworking, photography and video, music – just about anything someone wants to make.
"A makerspace can organize the functions of an art studio, a shop class, a computer lab, and more," writes Dale Dougherty in his 2016 book "Free to Make: How the Maker Movement is Changing our Schools, Our Jobs, and Our Minds." Dougherty launched the do-it-yourself magazine. Make: (also known as Makezine) in 2005, and began holding "Maker Faires" where DIYers, makers, tinkerers, and inventors could showcase their projects.
The Maker Movement, according to Mr. Dougherty, is a "hands-on renaissance" that was originally geared toward adults, but each year he saw younger kids getting involved with Maker Faires. Encouraging more kids to engage in making has become his passion, he writes, because children learn from playing in makerspaces. And that learning can cross over to the classroom.
Student-Driven Learning
The Maker Circle is reviewing current spaces and advising each other on starting new spaces that meet community needs, says Jennifer Lewin, District 65-NU STEM Partnership Coordinator. By sharing resources at multiple locations, the group seeks to provide a range of maker equipment, activities, and expertise across the community. Makerspaces offer a different learning experience from formal classrooms, where Lewin says students are often expected to listen obediently and echo back information that is delivered to them.
"This new way of approaching problems through STEM learning and makerspaces asks students to drive their learning and asks the expert to take a back seat and facilitate learning," Ms. Lewin explains. "It encourages critical thinking processes and gives kids the safe space to fail at solving a problem, so they can troubleshoot further and pursue a solution."
Taking Kids' Interest to the Next Level
The Evanston Library has offered maker activities to kids and teens for four years, and plans to open an all-ages makerspace after an upcoming renovation. The Loft – EPL's teen drop-in space – has a 3D printer, vinyl cutter (which can cut out things like stickers and silkscreen stencils), and computers, and has conducted programs around making books, board game design, and building with Legos. Renee Neumeier, the library's Young Adult Services Supervisor, focuses on helping students explore their own interests and seeing where that interest might lead, whether it involves digital technology or duct tape.
"If they're not interested in 3D printing but prefer sewing, or bike, or car maintenance, we can take that to the next level," Ms. Neumeier explains. "What other things can we introduce them to? Does MetaMedia or Chute have a more advanced program? How does that turn into classes in high school, and possibly into a career long-term? It's meeting kids where they are, while giving them guidance to problem-solve and create a project they're interested in."
Getting on the STEM/STEAM Track
Y.O.U.'s fledgling high school drop-in space aims to increase awareness of STEAM-related careers and help any student see themselves in those careers.
"These fields are becoming dominant in the world, so we want to put our students in the position of obtaining these jobs through internships, apprenticeships, anything we can do to help kids get into positions where they are currently underrepresented," says Christopher Essex, Y.O.U.'s Maker Manager.
Seeing other students who look like you working on science or engineering projects can provoke interest, Mr. Essex says, and might lead to a STEAM career in the future.
For the past few summers, Family Focus offered six-week STEM camps with maker activities for pre-K through 3rd graders, who learned about botany, paleontology, microbiology, and chemistry. Campers made fossils and "goop," built little catapults, grew cells in petrie dishes, and planted sunflower seeds. In the beginning, campers were asked to draw pictures of what they thought scientists looked like.
"The scientists were pretty much anglo with glasses and a lab coat – kind of nerdy professors," explains Colette Allen, Director of Family Focus. "At the end of the summer, those same kids had drawn themselves in the pictures." When kids have the opportunity to explore and create, they can see themselves as scientists and engineers, which Ms. Allen says are badly needed in underserved communities.
Work Together and Teach What You Know
Collaboration abounds in makerspaces, according to Sam Carroll, Mentor and Marketing Specialist at MetaMedia. Launched in early 2015, MetaMedia offers digital fabrication, a music studio, performance space, bicycle repair rack, photography and filmmaking equipment, arts and crafts supplies, and woodworking tools.
"We see kids collaborating with each other all the time," Mr. Carroll says, "it's built into the culture of spaces like this. We don't know everything, so we encourage kids to find things out on the internet, or try to figure it out from one of your friends." As kids learn more skills in the space, they become more confident and share their knowledge. Mr. Carroll says one MetaMedia student became so proficient with the vinyl cutter that he is now considered the expert other kids go to when they want to use that machine.
"The autonomy and ownership of what you're good at, and then being able to teach that to others, is important to the success of places like these," Mr. Carroll says.
Making Connections
An NU professor wants to help the Maker Circle identify what students learn from various maker activities. Students might increase their computational thinking skills, for example, or perceive the world around them differently depending on whether they use robotics and 3D printers, textiles and fabrics, or cardboard and clay, explains Marcelo Bonilla Worsley, Ph.D., Assistant Professor with the School of Education and Social Policy and the McCormick School of Engineering.
"After working with certain types of technology and engaging in tinkering, taking things apart and putting them back together, students will have a different lens through which to look at the world," Dr. Worsley says. After having kids experiment with short-range infrared sensors in small robotic systems, he says they started recognizing those sensors at automatic faucets and motion detectors. Making such connections could help students link their abilities and successes in a makerspace with daily classroom learning. Changing Evanston's STEM/STEAM Complexion Underrepresented students need the chance to explore in a makerspace environment, and to be encouraged and supported in pursuing their interests, Mr. Callam says. STEM environments are important, especially those where students socially fit in with other kids their same race and gender. The Maker Circle and EvanSTEM plan to actively track makerspace participation and engagement, to see if more of these students pursue STEM/STEAM education in high school.
"If successful," Mr. Callam says, "we hope to see enrollment in the STEM courses at ETHS mirror the population of the city."