Heading down Church Street just west of Dodge Avenue, one finds it nearly impossible to miss the welcoming façade of Y.O.U's (Youth & Opportunity United) brand new 12,000-square-foot headquarters located at 1911 Church St., across the street from Evanston Township High School.
The large glass windows and brightly colored panels beckon all who pass by, but it is arguably the back of the building that shines the brightest.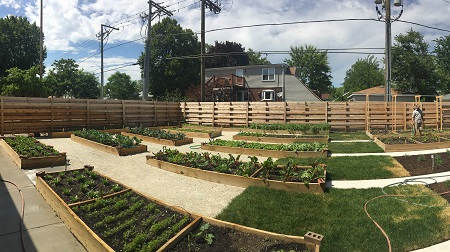 A large covered patio equipped with outdoor sofas and lounge chairs opens up to a sprawling vegetable garden. Lettuce, arugula, onions, spinach, kale, collards, turnips, squash, peppers, tomatoes, carrots, and a variety of herbs overflow the 10 raised beds. The garden was built this past winter by a group of ETHS students in collaboration with The Talking Farm, a local not-for-profit organization whose mission is to cultivate healthy, sustainable communities by supporting the production and appreciation of locally grown food.

"The partnership between Y.O.U and The Talking Farm was a natural one," said Casey Varela, Manager of Strategic Partnerships for Y.O.U. Both agencies work to meet the needs of the community. Y.O.U. has provided after-school programs and services to young people and their families since 1971. The Talking Farm, formed in 2006, grew out of the efforts of the Evanston Food Policy Council (now The Evanston Food Council). The Talking Farm designs and maintains many school and neighborhood gardens throughout Evanston and Skokie. While Y.O.U. and The Talking Farm have worked together for years, this garden is by far the most established program.

The garden provides a unique opportunity for students to learn about food production and farming. Matt Ryan, The Talking Farm Operations Manager, works alongside Y.O.U staff member Ivan Guadarrama to teach and guide a group of 10 ETHS students throughout the school year in a program called F3 (Food, Farming, Future).

The group meets twice a week. During the winter months the students spend a lot of time indoors learning the basics of food production as well as social justice issues in the farming and food industry. In the spring, the students plant seedlings indoors. By early June this year, the group already had their first harvest.
"We want to teach the students the bigger picture," said Mr. Ryan. "They learn about where food comes from, who grows it, and the effects of food production on the community. Then they get hands-on experience growing it, harvesting it, and selling it."
The majority of the produce is sold at the West End Farmers Market in the parking lot kitty corner from the Y.O.U. headquarters on Saturday mornings from 8:30 a.m. to 12:30 p.m. While some produce will be sold at the Downtown Evanston Farmer's Market, Mr. Ryan said the goal is to keep most of the food in the Fifth Ward community.

Brianna Williams, an ETHS junior who has been participating in F3 since January, said she was intrigued by the program after learning there would be a business component.

"I liked the idea of growing food, and I always wanted to have my own business," she said. "I wanted to learn about the process of creating a business plan."

Brianna says she has received more from the program than she had expected. Her favorite part has been witnessing the transformation of the space behind the building.

"When we started, this was just an empty, dark lot, and now it is alive with plants and vegetables," she said. "It is so beautiful. People come here just to see the garden, and they are amazed. I helped make this place what it is today, and that feels really good."

The garden's produce is also used by one of Y.O.U.'s after-school programs called The Chew. This culinary therapy program is created and facilitated by Y.O.U. social workers Carla Smith and Estefania Elias in collaboration with Evanston's Chef Q. The eight-week-long cooking class is designed to help students learn the ins and outs of food production and cooking, as well as interpersonal skills.

While the Chew is offered to elementary, middle, and high school students, it is currently the high school and middle school students who have the privilege of working in the brand-new demonstration kitchen that opens up to the patio and vegetable garden.

Mimi's Kitchen, named after philanthropist and former Evanston resident Mimi Frankel, whose family foundation made funding for the kitchen possible, is a well-equipped commercial-grade kitchen with ample space to teach, talk, and share meals in.

"The kitchen is a dream, and I was so excited when I learned there would also be a large vegetable garden right outside the kitchen doors," said Chef Q, whose father owned a farm when she was growing up. "I truly lived the farm-to-table experience as a child. Now, with this garden, we can really change up the curriculum for these kids."

For example, last week Chef Q and Ms. Smith offered a vegetable taste test with the students, using collard greens, Swiss chard, spinach, and kale.

"Nobody had tried anything but the collard greens before," said Chef Q. "After the tasting we were able to bring the kids right out back and show them where it came from and who grew it. It's brilliant."